6 Apps All Local Marketers Need To Download Right Away.
Every "must have" apps for marketers I've searched for ends up being useless in reality. I think they're all written by either tech-wizard SEO's or journalists who just look for something to drive more traffic to their site.
And above all, most are utterly useless for local marketers.
Somewhere the internet forgot that professional marketers consist of more than just ecommerce and tech startups.
So this post is for us, the pavement-pounders who make a living (or side-cash) helping the brick & mortar businesses in our backyards.
So Here's Some Apps You'll Actually USE
In short, these aren't apps that monitor social signals or some weird hipster data.
They're apps that my team and I use personally, in the field, every day, as we do the same stuff you're doing.
Point blank, they'll help you SELL MORE DEALS AND PUT MORE MONEY IN YOUR POCKET.
First, The 'Standard' Ones
Before we get into the top 6, there's a handful of apps you should be already using:
Dropbox/Google Drive
Trello (or something like it)
Your Bank's App
Siri – or an alternative
Dropbox/Drive
The uses for dropbox or drive are plenty but one thing I like best are for storing marketing 'snapshots'. I take pictures of anything local businesses are doing, from flyers and brochures, to billboards and yellow page ads.
In my opinion, anything marketing wise from potential prospects should be on your radar and get captured on your phone.
When I'm talking with a prospect I might ask them how their "30% of ad they ran a couple years ago went". They're always shocked that I'm so aware of everything they've been doing when really I just went into my dropbox and pulled up all images I took labeled under their business.
It helps give me a background to the past marketing of a business in terms of how aggressive (or reserved) they are with their marketing efforts.
Trello
Trello is a real life-saver for staying on top of tasks and projects and it's free. It's kind of like a digital corkboard, easily lettiing you keep track of tasks by moving 'cards' from one stage to another in a quick drag-and-drop fashion.
What I find trello useful for:
putting my daily tasks into 'cards' and making sure that they're all moved by the end of the day
putting daily tasks like calling certain customers or visiting certain businesses into my reps boards and making sure they're cleared each day.
anything else I want to track progress for.
You, like I, probably hate wasting time and even worse hate wasting time on clunky "time-saving" productivity apps. Nothing I've found is as simple and easy to use as Trello.
Your Bank's App
Sure you can deposit your client's checks the old fashioned way, like the bank teller or the ATM – but why make the trip when you can just do it on your phone at home or in your car?
I like to deposit checks quickly (the same day or next day at the latest) for three reasons:
I want the money now
I'm the type of person always at risk of losing or damaging any valuable paper item
Clients don't want uncashed checks hanging out there
"But Bob … who uses checks anymore?"
Those of you who work in the real world of local marketing know that 80% or more of the time you'll get paid by check.
This can come as a surprise for digital marketers transitioning to local – as they think everyone pays with bitcoin or something. Don't fret, checks are great, there's no transaction fee or chargeback risk.
Voice Memo/Siri
If you're a fan of my podcast, you might remember Matthew S., who went from living in a van to selling hundreds of 9×12's, and how he stays organized using Siri.
Voice memos and Voice assistants can be used to quickly record information as well as schedule reminders and appointments. Instead of trying to remember when you have to get back in touch with some random owner you spoke with a month ago, use your phone's voice assistant to schedule a reminder right after it happens.  Get a system down for it and it can literally replace a real-life assistant.
And as a testament to how well it works, consider that Matt still uses it religiously over two years later (you can listen to his follow-up interview from 2 years later here).
And Now, The Main List:
The Top 6
These apps aren't just compiled from somewhere else, these are ones I've personally battle tested and use daily.
The criteria I appplied to consider them top-of-the-pack is simple, they must help you:
solve problems
impress people
generate more sales
get paid faster
So let's get started …
#6
Airtable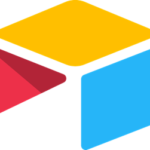 Airtable is Google's fresh new spreadsheet-on-steroids and is an unbelievably powerful tool to have on all your devices. It actually makes spreadsheets fun to use and much less spreadysheet-y.
Notable Advantage: One big feature I love is that it lets you attach files, like PDF's and images.
And it's 100% free.
How Airtable Can Get You More Clients
The perfect use for starting out with airtable is for figuring out which local businesses are more likely to spend money with you. How do you do that? Use it to identify which local businesses are spending lots of ad money in lots of channels:
Do this:
Create an airtable for local business advertisers
Enter any businesses that you see doing advertising
See which ones are doing multiple channels
Here's an example of my "local ad spender" airtable (on desktop):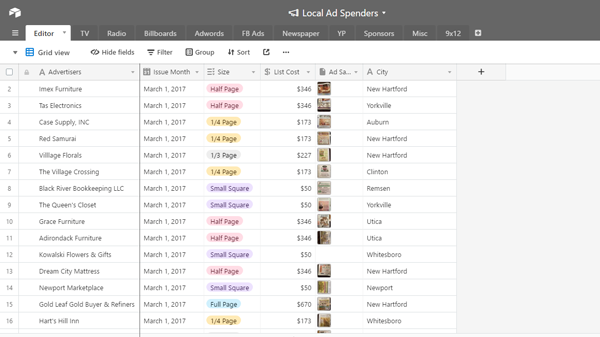 Notice I've got tabs (called 'bases') for different media channels.
I just input businesses anywhere I see them advertising locally (also my team has access so we put things in communally). If I can source a media kit or pricing page, I'll also put the prices – and I'll take a pic of each ad whenever possible and upload it as well.
How To Make One Yourself
You simply create a new airtable and make separate sheet/tab inside it (called "bases") for each type of media you want to track, like:
TV
Radio
Billboards
Newspapers
Community Magazines
Valpak/Money Mailer/Clipper etc.
Yellow Pages
Solo Direct Mail
Adwords
FB Ads
Misc.
Start putting known advertisers in there and you'll quickly get a good snapshot of who's spending money around town and who you might want to target. When you've got someone across multiple channels, the likelihood of them spending money with you is much higher.
You can also change the view of the spreadsheet too so it doesn't look so spreadsheet-y, like gallery view:
And best of all, viewed on the mobile app: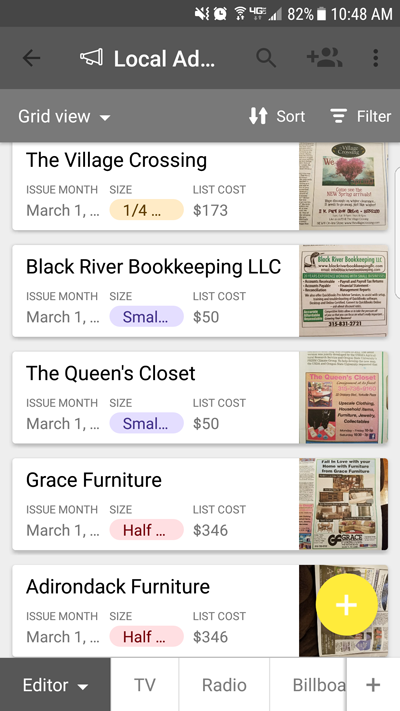 How awesome is that?
#5
Google Duo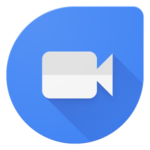 Released last summer, Duo is Google's answer to answer to Facetime, and works seamlessly for both Android and Apple devices. In about one second you can video chat on your phone without any of the clunkiness or quality issues that other solutions have.
How It Makes You Money
If you've got reps out in the streets, Duo keeps them a lot more honest, and hat means more money for everyone.
You can't run a tight ship when you let reps walk around freely. You never know where they are or what they're doing exactly – and they'll always move at a slower pace when not watched.
The phone calls where they tell you they just stopped at a dozen businesses but not a single owner was in sight? … Did that really happen or were they at McDonald's texting their spouse about what a lazy boss you are?
Instead of implanting tracking chips into your reps forehead, you can just simply arm them with Duo and keep in visual contact frequently. Random calls are your friend.
More Than A "Watchful Eye":
By video chatting frequently while your reps are out prospecting:
You'll feel closer to your reps
They can share things easier
Problems & Questions get solved quicker
When you've got reps selling for you (or plan to … because you do plan to right?), you can't be an absentee boss. Granted you can't be out there shadowing them all day, but you've got to maintain a continuous presence.
While it's no replacement for physically being there —  it is strangely personal enough to feel like you're tagging along.
Solve Problems On-the-Spot
My reps sell a lot of print (because it's so 'stupid' easy and profitable to sell), and before Duo, when owners would have some screwy looking brochure or menu or flyer, I'd have to wait for my reps to (hopefully) get a copy of one and bring it back to the office so I could see what exactly the size it is that they were trying to explain. But not now.
Now they just give me a ring and hold it up so I can see it. Immediately I can get a feel for the size and look without having to rely on clues like "it's kinda big" etc. And prospects love it, it makes you look like you're running a tight ship.
#4
Tiny Scanner

You don't have to use this one exactly, because you just need one that does the job, but Tiny Scanner is the one I use and well worth the $4.99 it costs to upgrade for unlimited use (the basic version is free).
If you want a totally free one, just search for "pdf scanner" in your app store and find one with good reviews.
I can personally vouch for Tiny Scanner though (available on both google play and itunes) and it's got something like 200,000 reviews with a nearly 5-star rating.
I love how easy and minimal it is to scan anything you put in front of it into a PDF. And it even detects edges perfectly, so it scans only what you want scanned.
Why You Need A Mobile Scanner
Like most entrepreneurs, you're probably more interested in making money than recordkeeping and organizing. Anytime I get something important in the mail or come across anything printed that I want to save, I just whip out my phone and 'scan' it into a PDF.
(which then goes to dropbox where it's safely stored).
How's It Different Than Taking A Photo Image?
Yes, you can snap a pic of any document on your phone and store it as an image but that's a terrible way to keep track and retrieve important documents. PDF's are the way to go.
PDF's are the way to go.
Use your PDF scanning app for:
receipts
invoices
important documents
contracts
agreements
important snail mail
written forms you've filled out
and anything else you can think of and neatly have PDF's stored right on your phone or shared to dropbox/drive/etc.
If you're new to local marketing, you may have the idea in your head that everything is in a digital environment these days but you'll definitely accumulate lots of paper stuff, from government business docs to everyday receipts.  and they're easy to lose if you don't get them scanned in and organized.
And they're easy to lose if you don't get them scanned in and organized!
Whenever you have an important piece of paper in front of you, scan it before you lose it.
You can also FAX from it by using the "tiny fax" app – which let's you fax right from you phone for only about 25cents per page.
#3
Expensify

I'm convinced that saving and organizing receipts is the work of the devil himself.
No entrepreneur worth their salt should burden themselves with the painfully dreadful task of filing and organizing receipts. Apps like this one make this a (much welcome) non-issue.
There's plenty of expense-tracking apps you can use but I've been using expensify for about 4 years so I stick with what works. Even though it's got a huge capability beyond what I use it for (simple receipt tracking – for both employees and myself) – the basic functions are all you need.
And it's free.
Write (nearly) Everything Off
As a business owner you're entitled to deductions for most anything that's important to running your business (see this list of 75 possible deductions alone).  But only if you have the receipts to back it up.
In case you get audited (or if your account asks you to pony up with proof), you'll have everything easily accessible digitally with these apps.
With expensify, you just snap a pic of the receipt, enter any info (or 'smart scan' it where it picks up all the info automatically) and THROW THE RECEIPT AWAY.
In fact, expensify recommends you "burn it".
It also has advanced features where you can merge your bank info in with it but I don't mess with that – I'm not that fancy yet.
Just having digital copies instantly stored is good enough for me, my accountant, and the jerks over at the IRS.
#2
RECAS

It's the newest-comer to my app arsenal but one I've been waiting to have for a long time.
I've only had it a few weeks but now I'd feel naked without it.
Recas is a company that helps you discover free (or partly-free) advertising money – called co-op advertising funds. Most local retail or service businesses sell products that give them free money to advertise with, yet few know that it's available,  or how to claim it.
Looking Up Free Money
Recas doesn't have the prettiest interface but that's OK, you just want to find the free money.
Let's say you're talking with the owner of a local carpet and flooring business:
You could bring up the topic of co-op funds and see if they're using any. Sometimes they've heard about co-op but don't know how to claim it or whether they even have any racked up.
If you've got the recas app on your phone, you can simply open it right in front of them and scroll through the industries until you see what you're looking for (in this case 'Flooring, Carpets, and Ceilings"): see below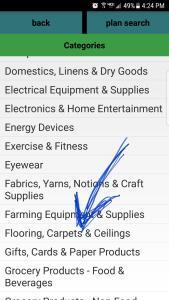 Once clicking that you'll see all the available programs for different brands in that industry.
Your prospect can point out which ones they carry: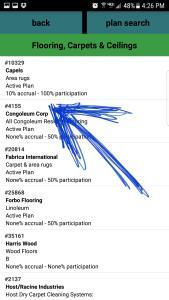 Notice the top one – Capels rugs, has great plan, 10% accrual (meaning Capels gives them 10% back towards free advertising) and 100% participation – meaning Capels will pay 100% of the advertising cost).
If your client sells Capels rugs, he may find out he's got a few hundred or even a few thousand dollars available to spend on local advertising with you. Chances are one or more of the vendors he buys from is saving this money for him to use.
You can click the vendor's program and it brings up further details, like which media is available, who to contact to see how much they have available, what time period it's good for, etc.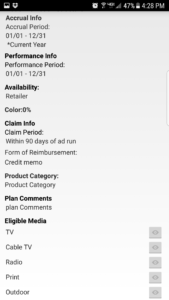 It's amazing to speak with a business owner and instantly look up various products they carry to see if there's a potential for money available. In my opinion every local marketer should have this.
If you're selling print advertising – like 9×12, M3, magazine, or such … almost all co-op plans will include it – and over the past couple years many are allowing digital marketing like PPC as well.
The downside: it requires a subscription to recas which unfortunately isn't cheap.
But … it's so good I couldn't leave it off the list.
#1
SQUARE
This one gets numero uno because it's something that gets you paid-on-the-spot (and it's hard to beat that kind of benefit).
Sure, most businesses pay by check, but you'd be surprised at how many extra deals you can close just by accepting a credit card.
Some owners don't keep a lot of money on-hand to spend impulsively and credit cards are a way to do business without tampering with their cash flow.
Use It To Overcome "Credibility" Resistance
How about those nervous prospects who are interested in what you've got but hesitant to give you money upfront? You can reassure them that if they're worried, they can just use a credit card so that they'll be protected no matter what.
This strategy is one of the first things I teach new reps because I don't need them losing deals just because someone was nervous about handing them money.
Square's low transaction fees, zero setup fees, lightning fast deposits, and ease of use make this a no-brainer for any local marketer.
New Features You Probably Didn't Know About
Square has added a lot more features since I started using them a few years ago of which you may have passed by:
Invoicing (including recurring)
Same-day Deposits
Stored Credit Card Info
Invoicing
You used to only be able to swipe or key-in a client's credit card but now you can invoice them so they can pay online – and you can even generate a link (by clicking "share") so they can get it directly rather than look for the email.
And they now offer recurring invoices, which will automatically be sent at whatever interval you wish. A++ feature for sure, and has replaced a lot of the ones I used to use paypal for (because square to me is preferred over paypal when possible).
Stored Info
Customers can choose to save their credit card info when they pay your square invoice, which makes it super easy for them to pay again, and don't you want them to have it easy when it comes time to pay you again?
Same-day Deposit
For a slightly increased transaction fee, you can actually get your money the same day as you ran the transaction.
A Recap & Summary
So you don't have to scroll around again, here's a list of the top 6 apps I find useful for local marketing:
Let Me Know What You Think …
I hope you're about to go on itunes/google and pick some of these up and start using them right away, I'm sure you'll see some big improvements in your business if you do. Let me know how it goes.
And while you're at it …
What Apps Are You Using?