The Mind-Boggling Source of Free Local Marketing Money You Never Knew Was Available.
What's better than discovering free advertising dollars?
Unbeknownst to most marketers, an enormous amount of free money piles up each year for the sole purpose of being spent on local marketing. It's 100% legit, abundant, and used every day by businesses who are keen to it.
As you'd expect, the only ones knowledgeable about it tend to be major corporations and larger businesses with dedicated marketing departments. The smaller ones usually have no clue it exists nor take the time to pursue it. But, with a little elbow grease you can help them spend their rightful share of this free money on your services.
Don't mess with me Bob, there's no free money, you lying sack of @#$#!
This isn't a prank, I promise!~
It's called co-op advertising and is literally just piling up every year waiting for people to spend it.
Here's The Secret …
Co-op (short for "co-operative") funds are monies that brands set aside for their retailers to spend on local marketing. This money accrues based on how much of their product is sold, usually around 1-3%.
Think of it like cash back on your credit card purchases, except that businesses buy WAY more in product than what you spend on your credit card (hopefully at least!). These 'reward' funds can really add up quick over the course of a year; with some businesses having many thousands of dollars that goes to waste if they don't use it.
For Example:
an HVAC biz accumulates free ad money every time they buy X brand furnace or A/C unit.
an auto service shop accumulates free ad money every time they buy X brand of motor oil and tires.
a mattress store accumulates free ad money every time they buy X brand of mattress.
If you think about it, it's common for most local brick & mortars to buy thousands, tens, or even hundreds of thousands of dollars in product each year; from ketchup to tile flooring, and jewelery to snowmobiles.
How Common Are These Programs?
There's around 8,500 co-ops active so virtually any business owner you run into that sells physical products will likely have a funds accumulating in some fashion. Sometimes hundreds of dollars in co-op money will be available for them to use and often it's into the thousands or more.
Whatever the amount, does it matter? It's free money!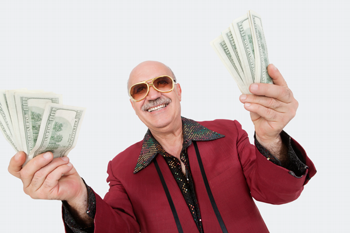 Why Would Anyone Give Free Money Away?
It's a really smart move.
Imagine you're a manufacturer who has five hundred shops across the northeast selling your products.  You wouldn't do advertising for those all local business would you? Of course not, that's their responsibility.
Your job would be to build awareness and trust in your brand across the region it's sold. The individual retailers would be responsible for telling people where they can buy it.
That's how co-op comes into play.
You reward your retailers with money to spend on local marketing as long as they prominently display your brand along with it. The more of your product they buy, the more marketing money you give them.
And if they don't use it, you take it back, make sense?
So all those huge newspaper ads, billboards, yellow page ads, and TV commercials you see from local businesses that promote a big brand which you thought were dummies for wasting money on?
Maybe they weren't idiots after all since they may very well have gotten it free!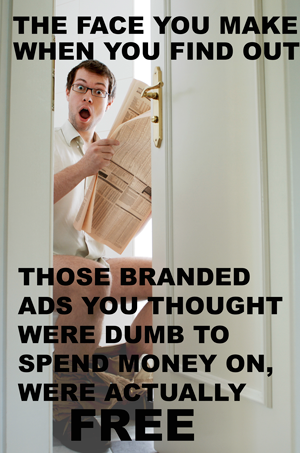 How Much Goes Unused?
Amazingly, there's about SEVENTY BILLION DOLLARS ($70,000,000,000.00) of co-op funds made available every year.
But only half of it gets claimed!
The remainder (just a mere $20 billion or so), goes UNCLAIMED and eventually expires.
What Marketing Can Be Used?
Surprisingly a lot of different marketing channels can be used. Not too long ago you couldn't do digital marketing with them but now it accounts for a huge amount of free co-op dollars spent.
See this chart from LSA (source):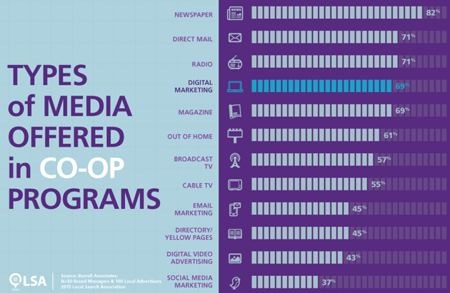 Why Does It Go Unclaimed?
Here's the typical process of claiming co-op funds in a nutshell:
Figure out which products being sold have co-op programs
Lookup the details of that particular brand's co-op process
Contact their co-op rep to see what funds have been accumulated so far
Create the artwork within the rules
Submit the artwork and ad details for approval
Run the ad
Turn in proof of the ad being ran.
For reference, here's an example of an actual co-op program sheet.
How many small businesses do you think can take the time to do that?
Pretty much only the ones who have staff they can dedicate to it or the time to do it themselves; which when you're talking about local businesses, most have neither. That's why they need you.
I've ran into business owners who had $5k, even $7k+ worth of co-op money available but no time or desire to go through those steps, when with just a few hours of time on my end doing some legwork, resulted in thousands of dollars in profit for me (and free postcard marketing for them).
Bob, How Can I Make Some Money On This?
I should note that sometimes you'll simply run into co-op funds as payment, especially if you're selling postcard marketing or print services (the easiest local marketing stuff in the world to sell).
Download
this AWESOME co-op calendar I found.
It's from a media department that specializes in co-op ads and has every month of the year along with what sells and what co-op programs go with them.
Some businesses use their co-op funds on direct mail and printing already and you can be the perfect vendor for them.
21.4% of direct mail users use co-op advertising funds. Two-thirds get at least half of their advertising budgets from co-op. Source.
The overall "how to make money from co-op" formula is pretty simple:
Hit up prospects and clients about co-op funds and offer to help them find any
Do the legwork
Provide the service
That's really it.
The difficult part is the same difficult part the business owner faces, going through the motions of getting familiar with each co-op program and how to best use it. The only shortcut I know is to check out recas, which compiles most all co-op programs and details along with which ones are most lucrative and where the dealers are locally that will likely have funds available.
Other than that, my advice is to start off by offering to help your current clients find co-op funds available. It can be a lot of legwork, so it's much better to become familiar with one or two co-op programs before you start looking up multiple ones at once. You don't want to get overwhelmed!
Personally, I like to use it as a selling point; I always try to mention that they may even be able to get postcard marketing for free. Sometimes we find money available and more often we just end up doing the work anyways and waiting for funds to accrue later in the year.
No matter what you do with co-op funds, they're a fantastic selling point to mention and will make you sound like you really know what you're doing when it comes to marketing. Worst case you help them uncover funds and you get a piec of that co-op cash!
More Useful Links (they all open in new windows):
tip: use links like these in your prospecting to 'open the eyes' of your clients to it.
Leave me a comment, lemme know your thoughts and experiences with co-op funds.