How to Get Your First (Paying!) Clients
In this fourth chapter of "Local Marketing for Newbies", I'll show you how to get business owners to start paying you for services.
---
How to Get Six to Ten Clients FAST
Now I'm going to show you a way to get you a half dozen or more paying clients, profiting about $1,000 total (or more), in only two weeks time.
I don't know any other local marketing service that will get you that many paying clients that quickly. You'll be using the M6 Postcard System I shared in the previous chapter.
Even if you've never sold a thing, don't worry, this is do-able by anyone.
Just follow the steps.
Step 1.
Make a List of Prospects.
Start by organizing a list of businesses in your area. You can search directories, use scrapers, click around on Google Maps, use List databases, or even just make Google searches for X business in X area.
If you're a member, use the free lookup tool.
I like to enter them into a spreadsheet, like Google sheets or airtable, so they're accessible on any computer or device.
Specifically look for niches like:
Restaurants
Chiropractors
Insurance Agents
Realtors
Home Improvement
Pest Control
Auto Services
Dentists
Furniture Stores
Lawyers
Recreation
Boutiques
Salons
Shoe Stores
Any niche works as long as it sells products or services to the general public. I avoid corporate chains though because they're not locally owned (unless it's a franchise).
It also helps if you make a list those who are already advertising. These are my favorites because they're so easy to sell. You don't have to convince them that marketing is a smart move, they already know it.
The more you see a business advertising, the more likely they'll spend money with you.
You can find these proven spenders anywhere advertising is sold, such as:
TV Commercials
Radio Ads
Billboards
Bus Station Stops
Sides of Buses
Grocery Store Receipt ads
PPC Results
Valpak's, Money Mailers, Clipper Magazines, etc.
Newspaper Ads
Anytime I see someone advertising I make sure to snap a pic on my phone or jot it down.
They're easy sales!
Step 2.
Find Attractive Neighborhoods
This is the only part where you need to use your brain.
You'll also use Google Maps, and the USPS EDDM tool.
Think about what parts of town you think advertisers will want to reach. Get inside their heads.  Imagine you're a store owner, what neighborhoods might you want to get more customers from?
A good place to start are nabes with higher incomes. You can find these by entering a general address into the EDDM map tool and then sorting the routes by income: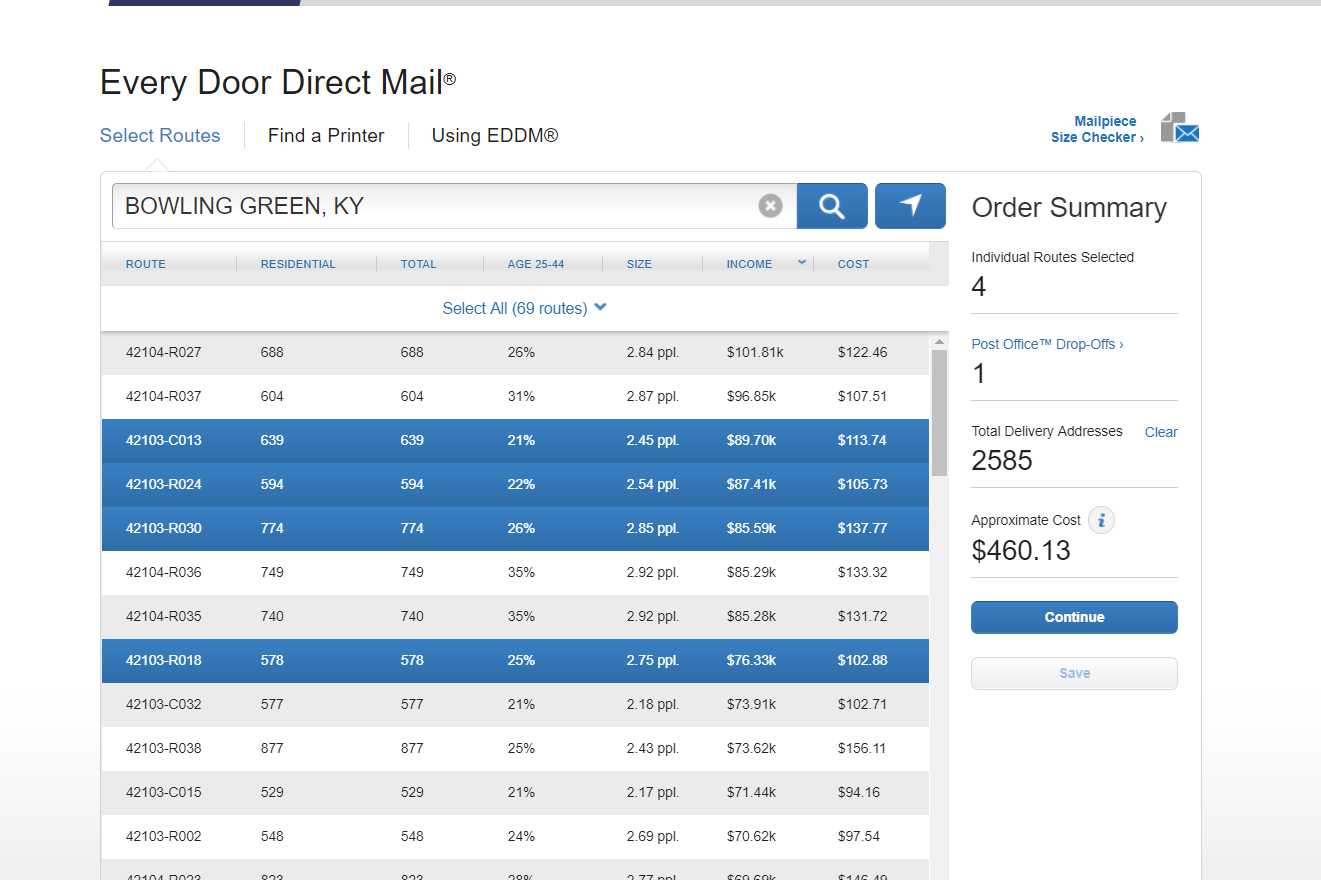 Pick a few routes and see if you can get the total quantity close to 2500.
This will be the amount you'll mail your M6 postcard to. As you grow, you can increase the quantity and use bigger cards with more spaces like the 9×12. But for getting started, a 2500 piece M6 postcard is ideal.
I like to print maps of the routes out too, as well as screenshots for sending over email. I also like to write down all the street names that are part of the mailing too.I find that makes it all seem even more valuable.
Step 3.
See Who's Interested
Now that you've got your prospects organized and some good neighborhoods identified, it's time to fill spaces on your card.
You can email, visit, or cold call. It doesn't matter — they all work. A mix of all three methods is even better. Just reach out to owners and see who's interested. Buy a pack of samples if needed: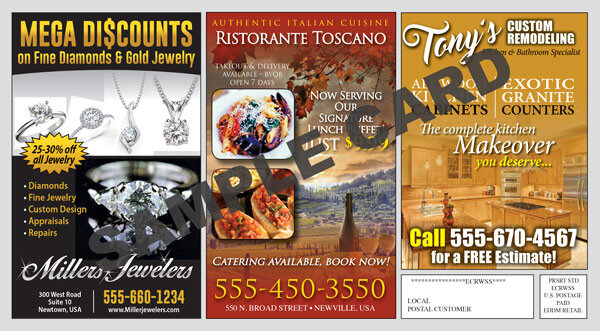 Let them know you own a local print & design business and that you're putting together a postcard promoting local shops.
Show them the neighborhoods it's going to and explain how it saves them thousands in cost. 
This is as uncomplicated of a product as you can get. The hardest part is truly just getting it in front of business owners.
What to Charge
You only need to charge $300 – $350 per space. That's affordable for every business. 
And you only need to get half down upfront, the rest you can collect when they're ad is completed. So that's only $150 – $175 upfront, which is pocket change.
Of course, not all will buy. Some are idiots. Some will tell you advertising doesn't work. And some won't like the color of your shirt that day.
That's OK, we can't win them all. But expect anywhere from twenty to fifty percent of the owners you speak with to buy from you.
Notice I said owners, not managers or employees — who don't matter. You have to speak with owners.
I'll often get emails saying "Jake, I went to fifty businesses and only sold four spaces! Then I ask how many OWNERS they talked to and they'll say something like eight or ten. So in reality, they had an outstanding close rate because 40-50% bought. It's just about getting in front of owners and not wasting your time pitching managers and counter clerks.
Even the most timid marketers end up selling at least 1 out of 5 owners.
That's why I know you can do it.
Getting in front of 10-30 business owners should only take you a few days if you hustle. But since most marketers are lazy, so I say two weeks. Just go do it, I swear it works.
Step 4.
Outsource And Be Done With It
As soon as you sell the ads you can start getting them designed. Always get at least half down upfront and the rest once their ad is created.
Always get paid 100% before printing. 
Outsource the ad artwork to a designer, which should cost $25 or less per ad, depending on how skilled and fast they are. Once the card is complete, send them to your wholesale printer for delivery to your door, or pay for hands-off turnkey mailing. I strongly recommend using my services as it's the fastest
That's it!
These mailings are great because they blanket ideal neighborhoods, and if you've got a useful coupon or two on there such a restaurant, they don't look like junk mail but are instead well-received. Most people actually look forward to getting them in the mail.
---
How to Get 10 Clients At the Same Time.
I mentioned how you'll probably get upwards of ten paying clients.
While the M6 only has six spaces, you can grab three or for more clients at the same time.
To do that, simultaneously sell print services. If you didn't read about print sales, go back here. Print is really easy to sell along with postcard space because they go hand-in-hand. Some people won't buy a postcard ad but they will buy printing from you, hence the extra clients.
(side note: printing is OK to speak with office staff if the owner isn't around — they often do the printing!). 
After you pitch the postcard, whether they say yes or no, ask them what kind of printing they might need down the road. Often you'll get sales immediately, just by bringing it up. Just recently I was immediately shut down for a $500 postcard space but walked out with a $2,800 printing order.
If I didn't ask about printing I would have never sold it.
Want 3x more Profit?
All you have to do is a 9×12 instead of an M6.
The steps are exactly the same, you just have to get in front of two to three times as many business owners. If you speak (phone/email/or in-person) to 5-10 owners per day, you'll have a fourteen or fifteen space card filled within three or four weeks.
That's $3,500 – $5,000 in profit, depending on how much you charge.
Best of all, on average, 50% of advertisers repeat. That's quite a bit of lifetime income for just a few weeks prospecting.
Next …
How to Get Paid …
Like what you see so far? Leave me your thoughts …