18 Spaces (10,000 Mailed)
This is just about the max amount of spaces you can fit on a 9″ x 12″ (or 8.5×11) piece without being too crammed. It's definitely pushing the limits of spaces though before you start becoming a "valpak" of sorts. 18 space layouts are best kept similar size for one flat price, or at most two sizes with two prices.
My favorite 18 space layout is this below: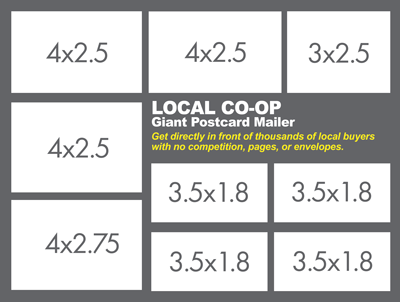 9″ x 12″
10,000 quantity
UV gloss coated, bundled 100's
1-2 day printing, 1-3 day shipping
Printing Cost: $1250
Design Cost: $475
Postage: $1,760
Total cost` ……………….. $3,485
Small: $345
Regular:$425
Average Ad Price: $389
Total Revenue … $7010
Profit: $3,525
Margin: 50%
The next 18 space layout is a 3×3 or "tic-tac-toe" style where ads are all evenly sized (except for the the one smaller one on the addressed side in order to make up for the EDDM indicia. I didn't really believe in the effectiveness of this layout compared to the design above, but Matthew S. has done hundreds and hundreds and hundreds of these over the years so I felt it was worth sharing.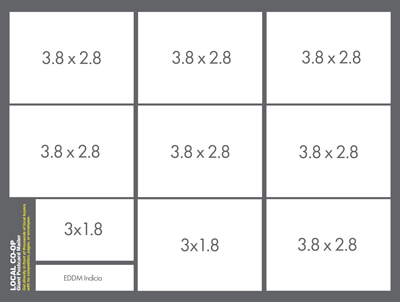 You need to sell each space at $389 to make 50% margin on a 10k quantity.