To get full training on how to build a 9×12 platform that's priced exactly where you want, you definitely want to read the totally in-depth 7 part pricing series here.
Surprisingly few 9×12'ers are willing to take the minor steps to do this, but you can easily reduce your ad prices in almost half — just by mixing 'distribution' into your 9×12 model. That means mailing a portion of your campaigns via EDDM and getting the rest available for locals to pick up across town.
Remember, 9×12 works best when made into a true marketing platform to be reckoned with rather than a novelty marketing platform. I know that because this is how I've been doing 9×12's since 2011!
Distribution is simple, aside from your regular postcard printing, you print a version of your 9×12 on flyer stock and display them in locations where locals are frequently visiting. Great places to get them available are:
Laundromats
Grocery Store Entry/Exit Areas
Bank Lobbies
Hotel Lobbies
Chiro & Dental Lobbies
Post Office Lobbies
Convenience Stores & Gas Stations
Hospital Waiting Rooms & Cafeterias
School Cafeterias
Office Building Lobbies
Anywhere else you can get them displayed in
Auto shops
Tire shops
Gymnastic, Dance, and Karate Studios
Barbershops, Hair, Nail & Spa
College & Dorm Lobbies
Apartment Building Lobbies
(something to keep in mind is that if you plan to have certain businesses on the card, you may not want to look at distribution points that could be seen as competitors. For example if you plan to have Auto Shops on your card, you wouldn't want to seek out auto-shops as distribution points as it would be pretty rude).
Think about the advantages:
Instead of reaching only the recipients on your mailing routes, you reach all the people who didn't get mailed.
Instead of a household receiving only one coupon per business in the mail, they can pick up multiple flyers and use them repeatedly and/or give them to friends and family as well.
Instead of being exposed only once per person,they get exposed multiple times as it can be found at all sorts of places locals are visiting, waiting, or passing by.
Business owners will also be exposed to your platform multiple times as well, piquing many of their curiousity and reaching out to see how they can be on this publication that's all over town and in their mail.
So how do you put one of these platforms together? …
Step #1: Acquire distribution points
Get as many distribution points as possible. You can NEVER have too many. Even if you find that some don't get much traffic, you still want as many points as humanly possible in order to bring the value and exposure up as much as possible.
The key I've found to making acquisition as easy as possible is to just spend half a day driving around town and stopping in the places above and asking whoever's at the counter if it would be OK  to put a small stack of local "coupon sheets" on the counter by the door or on the table or wherever you see some space that work. Get their name in case you have to mention that "so and so" said it was OK if asked down the road. If you have any friends or family that work anywhere that would be a good point, hit them up for permission too. JUST KEEP IT VERY CASUAL. You don't want to come in like you're some corporate character that's got something they may second guess.
Here's a true story … a couple years ago one of our members was putting some serious planning into his distribution model and went out buying newspaper racks and all sorts of stuff so he'd be taken seriously at all these locations he scouted out. He then complained that most everyone he talked to shut him right down or made it extremely difficult to get permission becuase they were very hesitant to letting him 'set up shop' essentially. … to the point where I never heard from him again soon after. Then maybe a year later, I get a 9×12 order that included 10,000 flyers as well, and the guy is in the same exact area as the one who was having distribution permission problems; turns out this other guy set it up in the same exact area with no problems at all! He told me he just went in and asked if he could put a small stack of free coupons for local businesses near the door. A simple "that's fine" is all you need from anyone at the counter.
Step #2: Organize and separate into price options
If you've got a large quantity of distribution points (the more the merrier), consider separating them into different options as upsells.
A great way to visualize everything is to use google's free "my maps". You can simply enter all your distribution points into a spreadsheet, then import them into 'my maps' so they show up as markers. Say your area is Joplin, Missouri: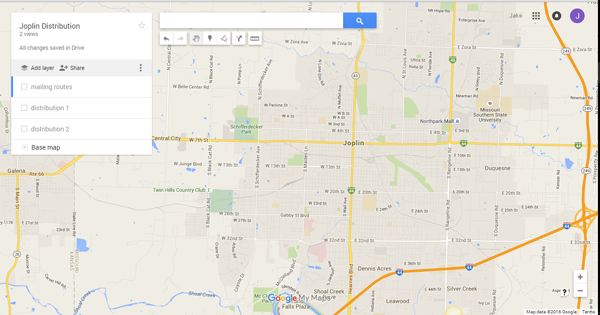 After going to the USPS EDDM tool site and selecting the top income carrier routes that equaled approximately 5,000 quantity, I simply drew some polygons in mymaps over the areas that would include mailings. This is an easy way to show mailing routes for those of you who aren't good with photoshop: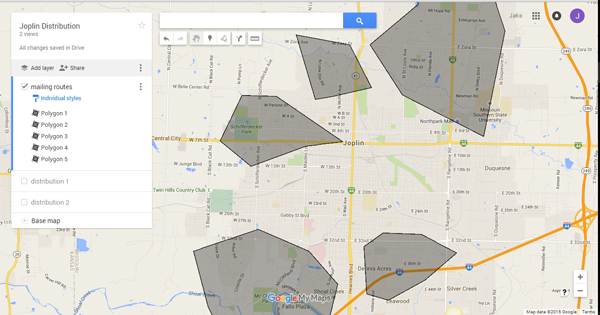 You can screenshot it and print or email to prospects when showing your mailing coverage (along with a list of streets preferably) … but also you can use it in a similar fashion as my 'Crystal Ball' strategy and simply display it on your device anytime you need! That's what's great about Google's "mymaps", you can view and share it on any device anywhere there's internet.  That's what I and my reps do now, but we always have sheets we keep with us as well, which gives it slightly more credibility.
While you can certainly price everything combined into one package, with distribution and mailing together (even at an average price of less than $300! [link here]), you may want to break the distribution and mailing quantity up for a more strategic method.
5,000 mailed and 10,000 distributed is what I find to be the ideal combination. If you're in a really small area, you may want to consider 5k/5k but in most, 5k/10k is the best.
You can even break your distribution up in two for a strategic price upsell. This means doing a 5k/5k/5k model. You can see how this is done by breaking up your distribution points into two separate options and importing them into mymaps as different layers.
I added a second layer to the map including enough of the total distribution points to cover a good range.  That could be offered as an upsell of $100 or more per ad for a much bigger profit with very low additional cost.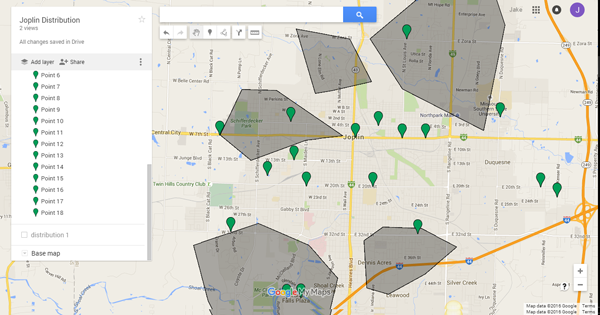 Adding the 2nd set of distribution points would make the most profound impression, and this is where I'd include the most high traffic points you've got, since this is what you ideally want your clients choosing and you more or less would want them to feel like they were "missing out" by not going all-in. See this as an example of the 'full package'.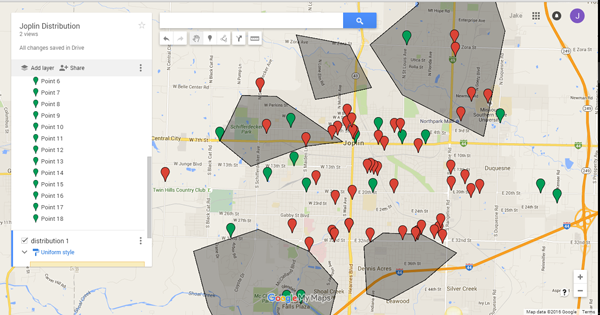 Using this situation, my ad prices would average something like this:
mailing only (5,000 pieces): $375
distribution 1 (10,000 pieces total): $495
distribution 2 (15,000 pieces total): $595
This pricing makes it all very similar to the pricing of a regular 10k 9×12 campaign. In fact, you may wonder why it wouldn't be better to just sell a regular 10k 9×12 campaign for $500 per space and avoid all the hassle of distribution points …. but consider this:
the profit will be at least $1,000 more due to $1,000 less cost
 the profit margin will be over 20% higher
the exposure will include built-in frequency as well as a wider 'net' of coverage
response will likely increase for many advertisers who typically get good response
the cost per piece to advertisers will be cut down drastically
business owners will see much more of the campaign, leading to more call-ins for advertising