Yes, believe it or not you can free yourself from the grind of a J.O.B. or unemployment.
I've done it, you can too.
No more bosses, time clocks, meetings, attire policy, or workplace drama. No more putting in the hours to build someone else's dream (isn't that the worst?).
While I don't have a "get rich quick" scheme to share,  I do have a rather a useful blueprint for how to make local marketing a full-time paying gig. And it WORKS. You don't even need to particularly skilled or knowledgeable and you don't need to buy anything.
Nor do you need lofty experience. No business or marketing degree? No problem. All you need is the desire to help local businesses market themselves better; you simply end up profiting from the process.
That's how I view it and that's what has made me never have to punch a clock, ask for time off, be told what to do, or live paycheck to paycheck again.
All you need to get started are a few simple steps.
And a few simple secrets …
(Don't worry I'm gonna share them all with you)
#1 Get a DBA
You shouldn't be doing business under your personal name, it's better to create a business name. You indeed can use your personal name if you want and that's all fine and dandy except when you start talking $1,000+ deals (which you'll run into as a pro).
You don't want to land "the big one" only to have them back out when you tell them to make the check out to "Billy Bob Shelton". It's time to put on your grown-up pants if you're going to start a real local marketing business and that means conducting business under a fictitious name.
To create a biz name, all you need to do is register a DBA (short for "Doing Business As") at your local government office. It's usually less than fifty bucks and will be effective immediately. With your DBA you can go online to get an EIN number (basically a social security number for your business) which then will allow you to open a checking account under your ultra-cool biz name.
Start in the morning and you can do it all in one day.
Maybe with time to even sell a deal too.
Later on you can look into LLC or S-Corp business structures, but for now at least get a business name registered so you're not using your personal one. That's a monumental step and it's too easy to pass up. You can even create multiple DBA's and do business under different names, but let's not get ahead of ourselves here. Let's get that money first.
#2  Setup Recurring Income
You'll definitely need a steady income so you're not having to start over from scratch each month.
Time will go much faster when you're self employed. I remember when I was an employee it took forever for payday to come … but now as a business owner it feels like it's time to run payroll every other day!
Not just weeks will fly by, but months will too. They'll fly by you f@#$% faster than lightning, which is great when it means "time to collect recurring payments again!" but not so great when it means "oh crap I gotta find more customers!".
So don't think you'll make a full-time living selling "one and done" services or you'll be back at a J.O.B. in no time. You've got to make recurring income a priority.
Fortunately there's plenty of ways to keep clients paying continuously. You can pick and choose what you want and assemble packages. Packages not only keep your services well rounded, but will distinguish you from other marketers in town who only focus on one service at a time.
Some common recurring digital marketing services are:
Search Engine Optimization ("SEO")
PPC (i.e. Google Adwords and Facebook Ads)
Social Media Management
Web Hosting & Maintenance
Reputation Management
Facebook Birthday Marketing
And print related services you can offer are:
Co-op Postcard Mailers and Distribution
Printing Services (business cards, flyers, brochures, banners, forms, etc.)
Targeted Postcard Mailings
New Mover & Birthday Mailers
They're all fair game and you can learn how to perform or outsource any of them fairly easily with the products and guides that are available (both free and paid) on this site and across the web.
#2 Create Sparkers
Here's a Secret No One Happened To Tell Me at First…
Most marketing services are REALLY tough to sell to new prospects. I didn't realize how tough they'd be until I actually tried it. I spent a lot of time in the beginning trying to pitch stuff that was too expensive, too complex, and too saturated. Later I learned that all this tough stuff was much easier to sell once I had a relationship in place. 
The key was to get the relationship started and then offer the core services.
You know how I learned that? I'll tell you a true story that happened to me in early 2011 …
How I Learned How To Sell Big Stuff
By Selling Small Stuff
It was a cold rainy Saturday morning, lots of snow on the ground still. I was stopping by business talking about my direct mail services. One stop was a PC repair shop that a young guy and his sister owned. I couldn't sell them on a mailing that day, but as I was leaving he says "if you're printing those mailers, what you should really be talking to me about are brochures".
I never thought of that before, selling print services. I had been using discount online printers to print my postcards, so why couldn't I print other stuff too? I could simply mark everything up and capture the difference. This guy just opened my whole world up with one sentence.
This immediate realization made it clear that I was able to offer a huge amount of products without having to actually fulfill anything on my end. I was pumped up beyond belief.
Later that day I walked into a tanning salon that I hadn't noticed in town before. The place ended up being under construction in preparation for their grand opening and two guys with dust all over their faces said they said they were the owners and greeted me.
They were interested in my mailings but when I mentioned printing they suddenly acted like hungry zoo animals.
I'd never seen this kind of reaction before. They spewed off product after product of which they needed immediately. Everything from business cards, brochures, flyers, and other things that needed to be printed like yesterday.
What was even more surprising was that they were located virtually ACROSS THE STREET from a print shop!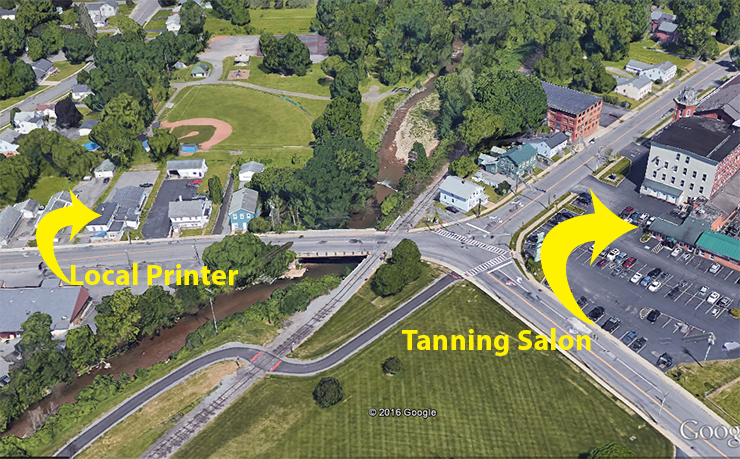 (That's the google map aerial view of how close my prospect was to the local print shop)
You'd think that having a printer virtually next door would get their business, but nope, biz owners simply don't have time to seek solutions and print shop owners don't have time to go prospect.
So I realized that I (or anyone else for that matter) could essentially become a middleman for these highly in-demand services and that it made a great sparker to get the ball rolling.
In an epic twist to the story, one of the owners, the bald one, said he needed a bunch of printing stuff for another business because he was sick of the poor quality Vistaprint had given him. He said his office manager would get in touch with me right away, which she did.
Turns out he owned a huge mental health facility and the tanning salon was just a passive side venture he formed with another tenant in the building – who needed printing for his personal training business as well.
So I ended up selling truckloads of printing for the salon, the personal trainer business, and the psychology practice, which also led to even more offshoot companies and non-profits that the owner was involved in with his peers. And these later turned into many more deals beyond print; for services that I never could have sold if I had just walked up to the owner and said "Hey I'm an SEO guy!".
So ever since then I always start with a sparker. Most every new interaction I or my team come across will inevitably end up pitched for one of our local marketing sparkers because we know they'll get a better reaction than if we try to hit them with the big stuff at first.
This in itself is an eye-opening lesson in good marketing and is essentially how giant corporations stomp all over the mom 'n pops when it comes to advertising. Mom 'n pop's try to get customers by promoting their core products and services. Corporate giants promote things at a breakeven or loss, because they know that once you're in, you're gonna be much more easily convinced to buy the stuff they really want you to buy (at the prices they want).
We're all victims to it. I mean how many times have you gone to the store for these: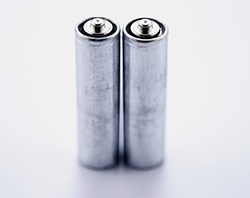 Yet pull up to the cash register like: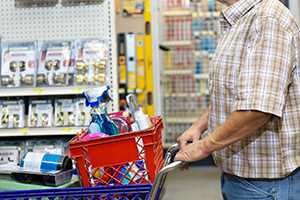 I know I'm guilty.
This is a huge problem with local business owners and marketers alike.
The secret to selling what you want is to probably sell them something else first. This is absolutely, unequivocally, undeniably required if you want to become a full-time local marketer. If you want to keep your marketing business as a side gig, then just sell the stuff you really want here and there as it falls in your lap, but if you want to do this full time, you'll need stuff that gets you in the door right away.
Moral of this story: Don't be the marketer that sells SEO by advertising offers for SEO.  
You don't have to use printing services as a sparker, you can create your own local marketing sparkers with whatever easy to do, interesting, and super-affordable services you want to put together. It could be little things like directory listings, press releases, website reports, or whatever small stuff you can create that gives some value and is unique from what else is being pitched relentlessly.
Download My List of Proven Local Marketing Sparkers
If you don't want to go about creating your own sparkers or want to have some ideas to start off with, I've got a handly list of them here you can download totally free.
#3 Prospect Wisely
Compile a List
Prospecting is much easier when you spend some time figuring out these three simple things:
Who your targets are
Where your targets are
How to best reach them
One of the best investments you'll ever make as a local marketer is a compiled list of all the businesses in your area. I'd say it's just about required if you're serious about local marketing.
The reason it's so important is because all your potential clients will be on that list, you just have to organize them, prioritize them, and reach them. Having a list, preferably with addresses, contact names and numbers, and industry type, will shave off a considerable amount of time prospecting randomly.
You can source a list a number of ways, the two best being:
A list pulling site, like mine (unlimitedlistgenerator.com)
Your local library's free ReferenceUSA database (if available)
Once you have your list, simply go through and organize it by the types of businesses that are more geared toward the services and sparkers you sell. I like to separate them into their niches as well as separating it by retail and service industries. You should also make a "hot" list that contain the businesses you see that are doing a lot of advertising since they can be your most primary targets and are often great to sell over email.
I also like sourcing lists of newly opened businesses. You can go to your county building to look those up or use a really cool way of doing it online here.
Go Get Your Services In Front of Them
You've got your targets, now you just need to work through your list and get your products and services in front of them.
Canvass areas that have heavily concentrated retail shops and introduce yourself and a sparker service.
Spend an hour or two on the phone calling the service based businesses
At night or early in the morning, email the services businesses and the larger businesses that do a lot of advertising
Essentially, just make the best use of your time and use the channels and resources you have. Hit 'em from all angles and just work your way through your list. Remember, all your potential customers are on that list, you just have to work your way through it, crossing them off only when you've gotten an absolute NO from the owner. By the time you get through that list, I can virtually guarantee you'll have a full time income coming in. You just have to work through that list.
So what are you waiting for?
Summary
Make your business legit. Register an awesome business name and open a business checking account under it.
Create recurring product packages that will produce a steady income.
Create sparking services that will lead them into your main products.
Compile, organize, target, segment, and prioritize a complete list of businesses in your area.
Work through your list using any and all prospecting channels (canvassing, cold calling, emailing, networking, referrals, social media, friends & family). ONLY CROSS THEM OFF WHEN YOU GET AN ABSOLUTE NO FROM THE OWNER THEMSELVES.
By the time you get through your list, you will have either:
More work than you can handle, with more than enough income coming in.
A full time income
A part time income
Either way you can't really lose.