16 Spaces (10,000 Mailed)
What's nice about this layout is that the small ads are much smaller and plentiful than the 14-space layout; which makes your pricing more evenly proportioned. With good design, it's pretty hard to believe there are actually sixteen different companies on a card, which is a plus for advertisers who want to feel like they're not being "drowned".
This is my favorite all-time layout (below) as I find it the best balance of prices across the board, plus you can typically raise your pricing as much as 15% more on small and medium ads without seeing any noticeable resistance. I've priced them below at 50% since we're sticking with the lowest pricing possible without killing margin.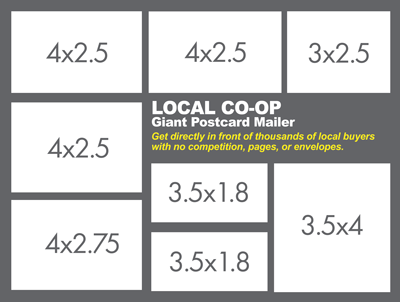 9″ x 12″
10,000 quantity
UV gloss coated, bundled 100's
1-2 day printing, 1-3 day shipping
Printing Cost: $1250
Design Cost: $425
Postage: $1,760
Total cost ……………….. $3,435
Small: $345
Medium:$425
Large: $595
Average Ad Price: $426
Total Revenue … $6820
Profit: $3,385
Margin: 50%
Don't forget to check out the 5/10 Hybrid version of this layout that we use personally. This gets your pricing under $300 while increasing quantity!
This layout below is one I use all the time, which includes what I call a "springboard" ad. The springboard ad is the small 3.5×1 ad in the bottom center. What it allows you to do is price it for a teaser amount that's low enough to get people interested … and then they think "who wants the small tiny ad and be the odd guy out?"
All the rest of the ads can be marked up even further than normal, making the teaser ad something not many people want to be on and more pressured to spend an extra $100-$200 more for a proper ad. Try it, it really works well.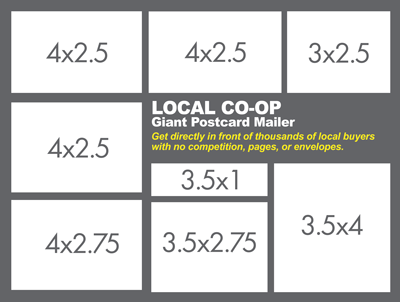 and then finally we have this oddball variation in "portrait" orientation, which isn't such a bad look! Each space is conveniently sized as a business card at 3.5″ x 2″.