"EZ LAWYER SALES"
The Perfect Product for Local Marketers Trying to Crack into this "Impenetrable" Niche
ATTENTION: This is a "Bob Ross" Exclusive
That means I am not releasing this publicly, but only to you, a member of my list.
(If you are a subscribing elite member, you already have access to it.)
We all love landing juicy Lawyer clients.
They have a never-ending need for advertising, and often very deep pockets.
But They Are EXTREMELY Difficult to Prospect
(Unless You Follow My "EZ" Secret)
Because ...
I HAVE AN "ACE IN THE HOLE".
It's a Simple Product You Can Sell TODAY To Lawyers, That Will Actually Get Them EXCITED and READY TO BUY.
My Local Marketer Friend and Follower,
I don't know a single marketer who doesn't have "Attorney" as one one of their top ten or so wishlist clients.
But you know as well as I do that they're incredibly tough to sell, let alone even get a chance to pitch your services to.
FRET NO MORE.
I have the easiest product you can imagine to sell to them - one that NO ONE ELSE IS PITCHING THEM FOR -- yet they LOVE and need it.
And the best news ...
* Easy to Prospect *
* Easy to Fulfill *
* Easy to EVERYTHING*
.... YOU DON'T EVEN HAVE TO PITCH IT TO THE ATTORNEY!
No kidding.
You can actually pitch this to the GATEKEEPER.
(that'll be the secretary, office clerk, paralegal, or assistant, etc.).
How many other marketing services can do that?
Zero. 
Here's an Example of What to Expect ...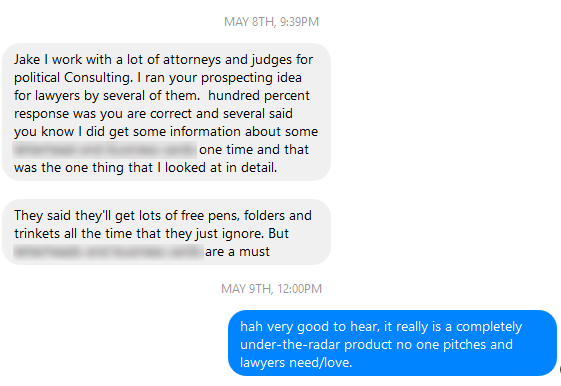 And Of Course like EVERYTHING I publish, I Use it Myself too ...
---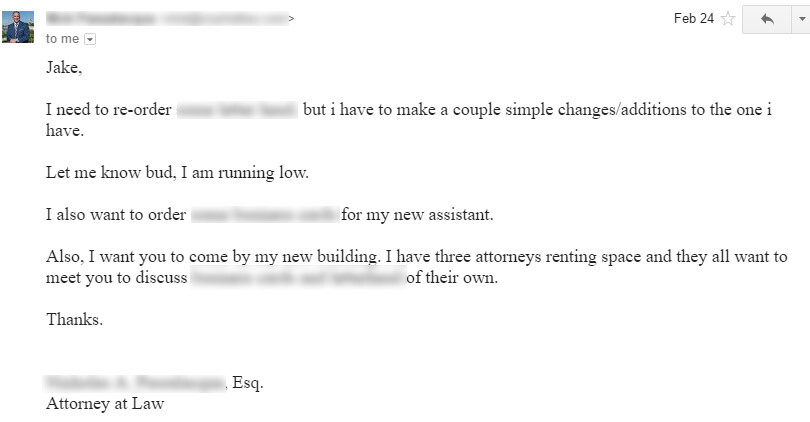 (Which of course I continued to sell ALL of his Attorney tenants in about a 20 minute or less period of time)
---
Point Blank ... This WILL Work For You.
You can use this simple (and I do mean simple) service alone and make great $$$ or you can use it to get a relationship quickly started with Lawyers so you can sell whatever services your ultimate goal is.
I promise this will be the easiest product to sell to Lawyers and you'll get fantastic response right away from just a small bit of hustle. Again, you don't even have to target the Attorney's themselves if you can't ... the gatekeepers are nearly just as receptive!
Testimonials ...
---
What a great system anyone can use to get a foot in the door of a lucrative niche.
You can tell it isnt some theory based info like many others put out, you're the real deal and do this type of stuff daily.
Everything is laid out in such easy, actionable steps that anyone can follow.
-- Ernie B.
---
What I love about Jake's trainings is that they are always easy to read and easy to follow. I can't think of anything you've left out here.
This guide is brilliant in its simplicity and clarity, and the method set forth could just as easily be adapted for doctors and other professionals.
With a little bit of hustle , I calculate that anyone can easily clear $400 profit on a single package sale of [the secret product].
Seems like it would be pretty easy following Jake's simple instructions to grow your business to $100,000 yearly income selling nothing but [secret product(s)] that every lawyer needs and will need again throughout the year.
And once you get your foot in the door with this simple product, you are only limited by your imagination as to the additional products and services you can sell these same clients once they come to trust and rely on you.
-- Yvonne Herbst (herbstmarketing.com)
You seem to have a penchant for simplifying the information that most people over complicate in their mind.
This is a super read Bob and very easy to take action with. This niche can be very lucrative and you've shown the 'ez' way to travel within it.
Great job.
- Tony (buildingacrowd.com)
---
I don't know how it could get any simpler and easier than this to make fast money and grow it into a booming business.
And the system will work great for more than just attorneys. Awesome as usual Jake.
-- Scott
Bob Ross – This is put together very well. A Step by step approach to go after Lawyers but Also Similar types of Professionals.
You show how to find that Niche, contact the Lawyers using multiple facets. Someone who has no experience or A season Veteran have many take aways. Well Structured.
Thanks again for producing an awesome simple to follow course.
-- Antonio M. (makeitpersonalmarketing.com)
---
Bob Ross, (Jake) – this is a great product, especially to help me figure out how to approach attorneys.
They are hard to get in there. I have some great products for attorneys, but not good at getting in front of them. So this is a great approach to get something they really need, and then can offer them some great upsells.
Love this. Thanks for putting out some great content! Again! As always.
-- Richard Jones (actuatedmarketing.com)
What's Included:
The beauty of this is that it's SO simple it doesn't require a massive training manual.
My STRAIGHT TO THE POINT Training Module

No fluff, no clutter, will get you ready to rock IMMEDIATELY.

My PROVEN, WORKING Scripts

Variations for In-Person, Cold Call, and everyone's favorite ... EMAIL!

DONE FOR YOU Template

Copy and Paste Ready to Rock Fulfillment