Hire Any Of These Great Designers …
Note: I do not receive any commissions or anything should you hire these designers; they're simply freelancers that I can personally vouch for in terms of skill, experience, availability, and price.
Because I want you to be as successful as possible, I've got only your best interest when it comes to designers, so I've handpicked the ones I know you can feel the most confident in.
A few tips before selecting anyone:
Contact them first to confirm their current availability and pricing
Always tell them you were recommended from me so that you get their best pricing.
Ask for examples of their past work to see if it fits the style you're looking for.
Typical Pricing:
While I can't control what everyone charges, I can give you some ballpark figures that are completely fair and reasonable:
9×12
With the level of skill and experience the designers on this page have, they'll be able to "nail it" most of the time, even with minimal information from you to go by.
That said, sometimes your customers will want changes. Generally your designer will allow 2 or 3 minor revisions if needed and possibly a major revision or two as well Further revisions will cost a little extra (which is good to pass on to the client).
Expect to pay:
$20 – $25 each 9×12 ad.
An additional $20 – $25 for final layout when all your ads are sold.
Consider reducing your design costs by purchasing the 9×12 Ad Template Pack V1.
M3
M3 ads are just larger 9×12 spaces, so the same pricing for 9×12 will typically apply – just double it since there's a front and back (some may give a discount since it's the same advertiser).
Business Card: $10-$25
Flyer: $30-$75
Solo Postcard: $65-$100
Logo: $75-$150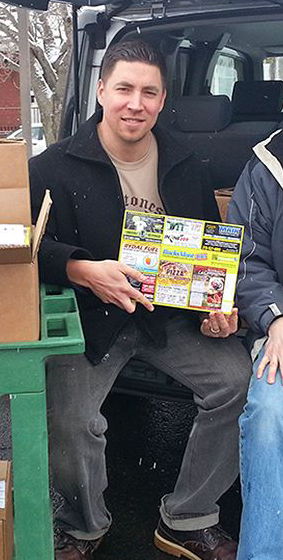 #1 Gregg Poserina
Gregg not only does great design at super-reasonable rates, but he's done multiple 9×12's himself so he knows everything inside out.
A full-time Graphic Designer by trade, Gregg is more than capable for any of your design needs and I wholeheartedly recommend him 1000%.
Hit him up at [email protected]
#2 Gary Hummel
Gary's a professional designer with outstanding skills and very reasonable rates to boot. He's done hundreds of projects for other members of ours over the last 5 years.
Reach him at: [email protected]