This is a seven-part series on how to lower the prices you charge for 9×12 spaces.
Part 1: Selling Cheaper Than Ever
Part 2: Cheaper Printing
Part 3: Cheaper Postage
Part 4: Cheaper Design
Part 5: Affordability
Part 6: Building Your Perfect 9×12
Part 7: DFY Pricing & Models
Done-For-You Pricing Models
Finally to the last part in the series! This one (which I'm sure many of you will jump right to instead of going through all of them) is where I'm going to give you some basic framework to your 9×12's that have ads priced at 50% profit margins. If you're not getting at least 50% profit margin … then you need to make some modifications so that you are.
Having these already priced out for you should save you a ton of a time building your own solution without having to run through a million calculations every time.
Let's first take a look at the most common model:
The "Traditional" Layout 10k Model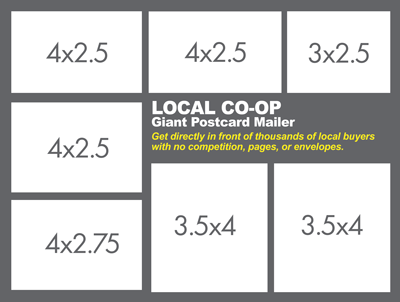 9″ x 12″
10,000 quantity
UV gloss coated, bundled 100's
1-2 day printing, 1-3 day shipping
Printing Cost: $1250
Design Cost: $375
Postage: $1,760
Total cost ……………….. $3,385
Small: $395
Medium:$475
Large: $595
Average Ad Space: $497
Total Revenue … $6970
Profit: $3,585
Margin: 51%
5k Quantity
Small: $250 (5 cents ea.)
Medium: $275 (5.5 cents ea.)
Large: $350 (7 cents ea.)
Average Ad: $292
Total Revenue: $4100
Cost: $1905
Profit : $2195 ….  54% margin.
——————-
The problem that can arise with the above 9×12 model is that your average ad prices need to come to almost $500 on a 10k mailer. Not everyone ends up selling all 14 spaces and not everyone ends up selling every space at an average of $500 … so what does that mean? …your profit has been chewed into.
It's not the end of the world considering you've got plenty of paying advertisers and you haven't lost money, but changing your model to make 50% or more in profit is in the best interest of your business over the long haul.
As you see above, dropping to a 5k quantity brings the average ad price down an easier $292 … but you're also dropping the quantity in half, which is a pretty big sacrifice to make if you're just trying to lower the price you charge per ad.
A different option to lower the price of your ads (without lowering your margin) is to add more spaces. See these different layouts and pricing models:
12 Space Layouts
14 Space Layouts
16 Space Layouts
18 Space Layouts
And if you really want to make significant changes, such as getting pricing under $300 on average yet delivering a quantity of fifteen thousand, you've got to check out this:
5/10 Sixteen Hybrid (My Favorite)
And of course you can take any of those above models and change any of the parts and components that this article series went over, which will give you basically every tool needed to meet the pricing and margin you desire.
From there on …. the best thing to do is work on your salesmanship so that you can close deals faster and/or command higher pricing which will directly increase your profit margins.
And don't forget to consider cool implementations such as the Column Inclusion.
Enjoy!